Megakaryocyte morphology with GATA2 germline change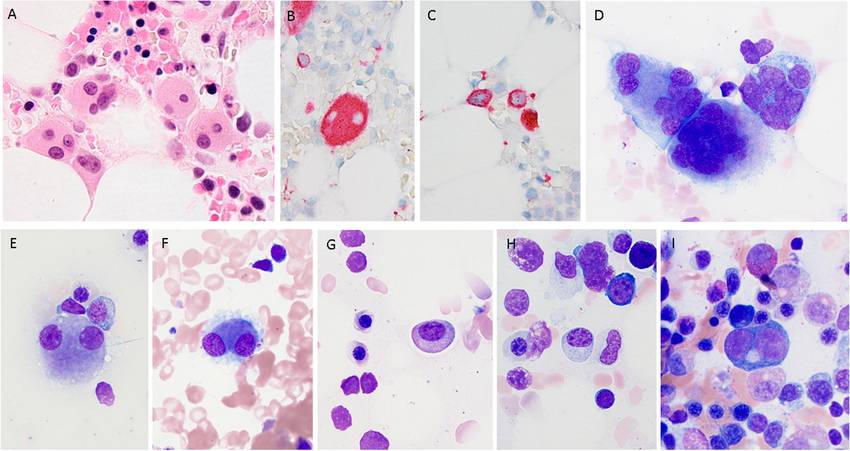 A 27-year-elderly person, under the consideration of the dermatology administration with a 7-year history of broad repetitive viral moles on his hands, eyelids, and lips, consequently grew left-leg lymphedema with related cellulitic episodes. An acquired immunodeficiency disorder was thought of. His full blood count showed hemoglobin focus 134 g/L, white cell count 4.36 × 109/L, neutrophils 3.15 × 109/L, lymphocytes 1.02 × 109/L, monocytes 0.08 × 109/L, and platelets 150 × 109/L. Lymphocyte subset examination showed decreases in CD3+CD4+ and CD3+CD8+ Immune system microorganisms, NK cells, and B cells. Ensuing DNA examination uncovered a heterozygous graft site transformation in intron 7 of the GATA2 quality (c.1143+1G>C) with regards to a pathogenic protected GATA2 change. A pattern bone marrow yearning biopsy showed gentle dysplasia in the erythroid and myeloid heredities with additional prominent irregularities in the megakaryocytes. These were profoundly factor in size with some appearance isolated and peripheralized atomic parts (upper left and focus) and others being non-lobated (base left and focus). Little hypolobated megakaryocytes and miniature megakaryocytes were available (top and base right, all pictures ×100 objective). His bone marrow karyotype was ordinary. His resulting yearly marrow assessment has shown stable illness without any proof of cytogenetic development.
Germline GATA2 haploinsufficiency is related with an immunodeficiency disorder influencing the number and capability of dendritic cells, monocytes, and T, B, and NK lymphocytes with an inclination to abnormal mycobacterial, contagious, and viral diseases. It additionally influences hematopoietic immature microorganism development and can prompt familial marrow hypoplasia, myelodysplastic disorders (MDS), and intense leukemia. The megakaryocyte morphological irregularities displayed here are normal of this condition1 and should be visible regardless of protection of the platelet count. Cytogenetic irregularities, including loss of chromosome 7 and trisomy 8, are available now and again. This condition ought to constantly be viewed as in kids and youthful grown-ups giving MDS, marrow hypoplasia, or intense myeloid leukemia, even in those without an individual or family background of immunodeficiency. The related hematological sequelae convey an unfortunate visualization, and as allogeneic undifferentiated cell transplantation is frequently thought of, barring the condition in potential kin donors is significant.